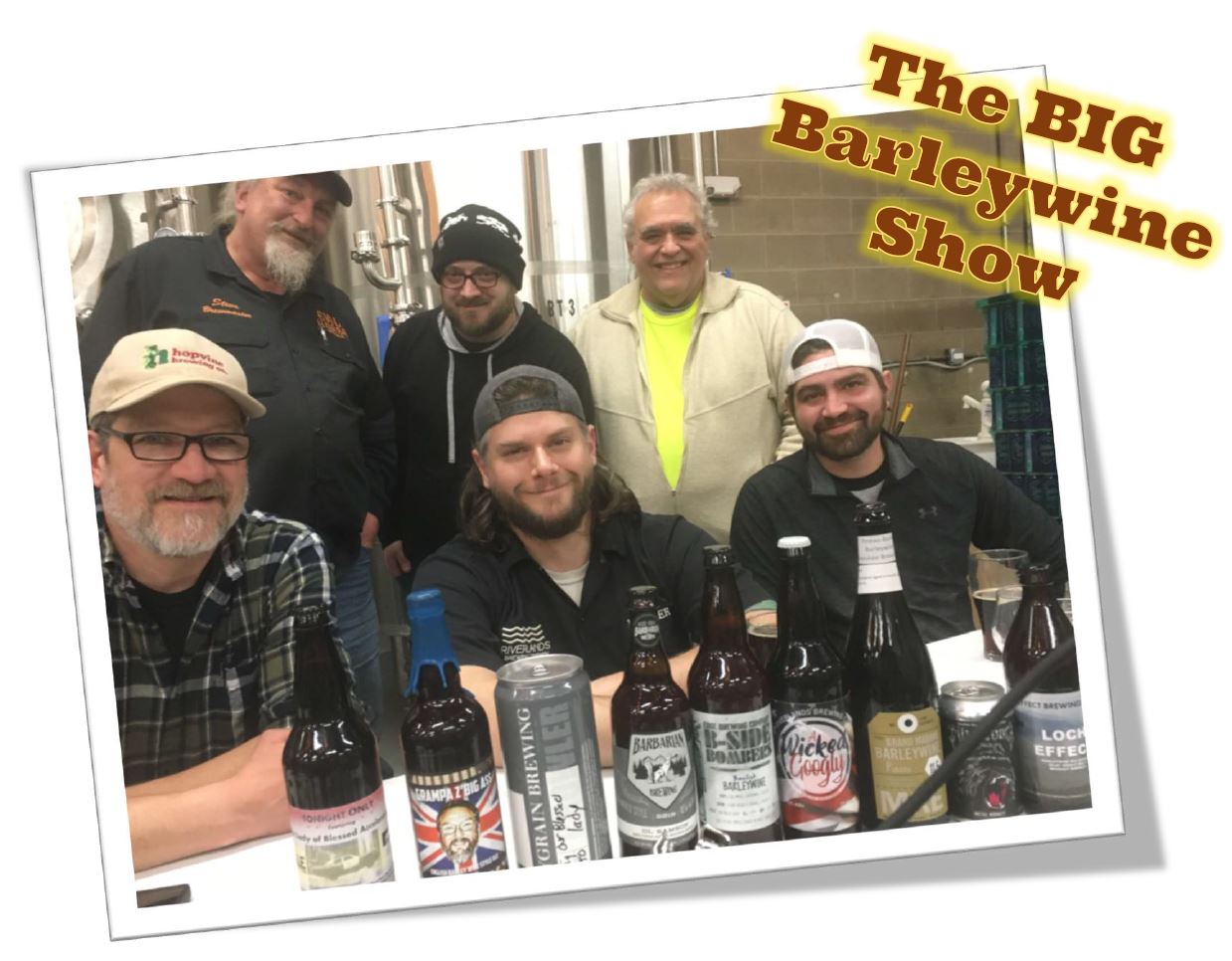 Pubcast 342 - The BIG Barleywine Show
Jan 24th, 2020 by britandyankee
It's our annual bumper BIG Barleywine show, where the beers are BIG, the guests are larger than life, and the podcast is a marathon! Lingo joins me as co-host #1, and Ken McMullen from Hopvine is co-host #2, but also is one of the 5 brewers we have on hand joining The Brit on this yearly trip into a classic style.
Last year, we were recording show 300. This year we record to coincide with the release of our collaboration barleywine, A Wicked Googly. This is a Riverlands Brewing, Hopvine Brewing, and Podcast collaboration...but more on that later.  We recorded the show after a full day of bottling our offering, so we were ready to sit and talk with a panel of guest brewers who included Steve Kemp from Evil Horse, Dan Rosenberg from MyGrain Brewing, and Riverland's very own Eric Bramwell and Dave Marck.
Along with trying barleywine's from Illinois, we had a couple from Idaho and one from Wisconsin. Of course, the conversation isn't all about barleywine, as we touch on adding fruit to brews and experiment with drinking from a crowler that was filled nearly a year ago. We touch on ice cream and beer and other food pairings, yeast strains, and of course we have at least one brew that is a gusher, and we find from Dan why some beers behave that way.
Yup, this one is a long one, but we were all having such a good time, we let the chat carry on...so, we've included the timings below in case you want to skip ahead. But then, if you do you'll miss the party!! Cheers!
Our Barleywine Selection with segment times:
00:00 - Evil Horse  Brewing, Crete IL, Grampa Z'Big A$$, 11% ABV
13:47 - MyGrain Brewing, Joliet IL, Our Blessed Lady of Acceleration, 11.4% ABV
25:43 - Barbarian Brewing, Garden City (Boise) ID, Ol' Samson, 11.8% ABV
41:24 - EDGE Brewing Co., Boise ID, Basilisk Barleywine, 11.5% ABV
52:26 - Milwaukee Brewing Co, Milwaukee WI, Grand Madame Brandy Barrel Aged, 11.5% ABV
64:02 - Metal Monkey Brewing, Romeoville IL, Silverback, 11.4% ABV
74:02 - Lake Effect Brewing, Chicago IL, Loch Effect, Barleywine aged in single malt Islay whiskey barrels, 13% ABV
88:29 - Riverlands, Hopvine collaboration - A Wicked Googly, English Barleywine, 10% ABV
Click here to head to our website for photos and more!
Share
|
Download(

Loading

)